もっとも役に立ったレビュー
B.J.OWENS
Kidderminster
Samsung Galaxy S4
2014年4月22日
Good Piece of Kit
At first I was a tad sceptical as to the quoted functions of this device following research on the internet and the wild variation in prices .Itherefore decided to play safe and buy from alocal trusted company ie Mobile Fun .The unit is genuine Samsung ,very compact ,well constructed and does every thing it says on the box Iamvery pleased.
mal
Ingoldmells
Samsung Galaxy note 3
2013年12月23日
Fantastic
Wanted to use this to play Sky now and Netflix through my 3g connection as my broadband is slow where I live and when the kids are on their ps3,my youveiw box will not work. Once connected to the dock my NOTE 3 works like a dream.PIcture is fantastic and I've also connected my keyboard and mouse and it works as good as my home computer. Sound through hdmi into my Jbl sb400 soundbar is also great. The note 3 works a dream and I don't have to run about looking for a charger.FANTASTIC
gwbz99
Bedfordshire
Samsung Galaxy S4 Mobile
2013年11月7日
Excellent Accessory
An extremely useful accessory for my new Galaxy S4 mobile, although a little on the pricey side. But I wanted the official Samsung dock rather than an inferior third party one. The dock is recognised automatically by the phone, so no setting up. It has been a boon to be able to plug in a wireless keyboard and mouse while I was setting up my new S4, adding contacts, etc. The S4 fits perfectly, even while still in its case. Although you have to make sure the phone is sitting exactly square on the contacts. I found that the front cover/flap on the case was pushing the phone off-centre and it was not connecting, but once you are aware of that, it is fine. I have tried the HDMI connection to my TV. All worked fine, but not something I would use very often. A few very minor drawbacks: 1) I use an alternative keyboard app (A.I.Keyboard-very good!), but this has to be de-activated when you use the dock. But as the main benefit of the dock is to connect an external keyboard, then this is not an issue. 2) The dock puts the phone on permanent charge. When the phone is fully charged, I get reminders to un-plug my charger. 3)The dock displays its own Home Page with calendar and clock, but if you don't like this, it is easily cancelled with the (X) button. All things considered, I would rate this item at 95%.
56 Reviews
|
レビューを書く
---
詳細情報
Charges and synchronises your Galaxy Note 4 & 3 / S3 / S4 to laptop or PC
This Smart Dock will allow you to synchronise and charge your Galaxy Note 4 & 3 / S3 / S4 in one easy process. Simply place your device in the cradle and connect the cable to your computer to allow data synchronization. The Smart Dock can also be powered by using the included Micro USB cable or using a mains USB adaptor. The kit does include an EU Travel adapter, ideal for when you travel abroad.
HDMI out lets you display your handset's contents on HDTVs and monitors in 1080p
Work, play or view media on large monitors using the Samsung Galaxy Note 4 & 3 / S3 / S4 Smart Dock. An HDMI out allows you to dock your Note 4 & 3 / S3 / S4 within the device and connect it to either an HDTV, monitor or projector. This enables you to mirror content from your handset to the large screens with crystal clear 1080p video output, making it superb for watching movies or viewing documents on big screens.
Three USB ports allow connection of storage devices, computer mice and keyboards
On the sides of the Note 4 & 3 / S3 / S4 Smart Dock are three USB ports which support connection of a whole range of USB devices such as computer mice and USB keyboards. This means that you can transform your Note 4 & 3 / S3 / S4 into a fully working computer by connecting a keyboard and mouse whilst simultaneously connecting the Smart Dock to a large display screen.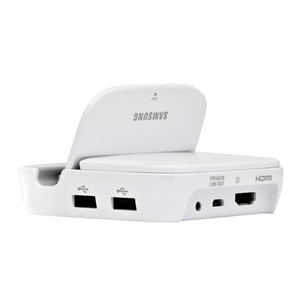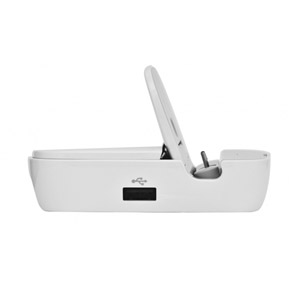 Additionally, external storage devices such as USB data sticks can be connected in order to transfer files to and from your Galaxy Note 4 & 3 / S3 / S4 with ease.
3.5mm audio jack supports connection of external speakers
Ideal for parties or simply in the living room, the Galaxy Galaxy Note 4 / S3 / S4 Smart Dock features a 3.5mm audio out port which allows you to connect the dock to any 3.5mm supported speakers and play music directly from the Note 4 / S3 / S4. This effectively transforms your device into an entertainment centre whilst charging the phone at the same time.
Supports Galaxy Note 4 & 3 / S3 / S4 dock mode
An additional feature of this charging dock is that as well as supporting a synchronisation mode for transferring files to and from a PC or laptop the dock also supports 'dock mode' for greater battery saving and allowing you to use your phone as an alarm clock display.
Compatible with official Samsung flip covers
Providing convenience and versatility, this genuine Samsung Smart Dock is compatible with Samsung flip cover cases and most other slimline cases meaning that you don't have to sacrifice protection over functionality.
Technical Specification:
Video: 1080p
Audio Out Port: 3.5 mm
Amperage: 2A