Crystalusion 液体ガラススクリーンプロテクション
部品番号: CLGP2P
商品レファレンスID: 39834
液体ナノテクノロジーで携帯電話やタブレットを保護します。Crystalusion液体ガラスはデバイスに抵抗層を作り、コーティングされた表面をよごれ、油、ほこり、擦り傷、バクテリアから保護します。最長12ヶ月間保護可能です
"Great product!!"
"superb"
"Great part"
もっとも役に立ったレビュー
Robert
Essex
Samsung Galaxy Core
2017年6月27日
Great product!!
Easy to use & apply. No fiddling with stick on screen protectors & air bubbles. Enough left over to apply on other screens as well.
harry jones
oswaldtwistle lancashire
samsung s7 edge
2017年6月21日
superb
exactly what it says on the box.A bit of messing to prepare,but when fitted it is quite awsome.
Yaroslav Barsoukov
Warwickshire
Samsung A5
2017年4月7日
Great part
Can not feel the difference, but obviously the device became crystal clear and more durable to scratches. I am not using any case, my phone remains like new
352 Reviews
|
レビューを書く
---
おすすめの理由
どのデバイスにも塗布することができる液体ガラス層
非常に薄い層で、気泡に悩まされることなく保護できます
油分、水分、バクテリアを寄せ付けません
メガネやサングラスにも使えます
簡単塗布
---
詳細情報

どのデバイスにも塗布することができます
Crystalusionは革命的なスクリーン保護。スマートフォン、タブレット、MP3プレーヤー、ラップトップ、カーナビなどの機器を簡単に保護・維持することができます。この革新的な液体ガラスプロテクションは安全で、ナチュラルで、自然にやさしい技術です。さらに、 Crystalusion液体ガラスプロテクションは賞を取った抗バクテリアナノテクノロジー採用です。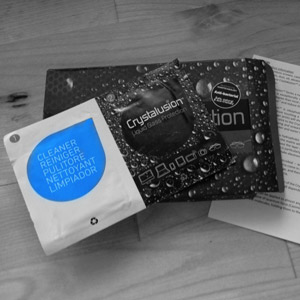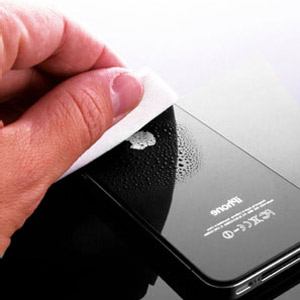 非常に薄い層で、気泡に悩まされることなく保護できます
ナノテクノロジー採用の液体スクリーンプロテクターは抵抗層を作ります。最長12ヶ月間コーティングされた表面をよごれ、油、ほこり、擦り傷、バクテリアから保護します。従来のプラスティックのプロテクターとは異なり、デバイスの表面に液体を塗布します。数分で固まり、人間の髪の毛の約500分の1の薄さの保護膜を作ります。また、液体なので、気泡が入ってしまうということもありません。デバイス全体に塗布することも可能です。

油分、水分、バクテリアを寄せ付けません
Crystalusionはバクテリアを寄せ付けず、増殖を防ぎます。バクテリアがコーティングされた表面に触れるとイオン交換による分裂ができなくなり、死滅します。また、水分や油分をはじき、寄せ付けません。非常にスムーズな層なので、水分は表面に付着することができなくなります。プールでゴーグルを使用するときなどにとても便利です。また、コーティングされた表面は指紋がつきにくくなり、コーティングしていないスクリーンに比べて、非常に簡単に指紋をふき取ることができるようになります。


ご注意:Crystalusionを塗布してもデバイスを防水加工することはできません

メガネやサングラスにも使えます
Crystalusionのユニークな特性はメガネ、サングラス、ゴーグルなどにも応用できます。指紋をつきにくくし、耐水性を高めます。



付属の特別クロスで簡単塗布
3つの簡単ステップで保護します:
きれいに磨く
1つ目の袋に入っている付属のマイクロファイバー(超極細繊維)クロスでデバイスの表面についている汚れ、あか、指紋、化粧、油分などをしっかりとふき取ります。
塗布する
乾いたら、2つ目の袋に入っている付属のマイクロファイバークロスを用い、Crystalusion液体ガラスプロテクションでデバイスをコーティングします。クロスが完全に乾くまで塗布し続けます。塗布が完了したら、デバイスには触らず、少なくとも5分間はそのままにし、乾かします。
乾燥させる
5分経つと、ちょっとした操作が可能なくらいまで、乾いた状態になります。ただし、Crystalusion液体ガラス層が完全に形成されるまで12時間は待つことをお勧めします。
ご注意: デバイスに塗布後、少なくとも数時間お待ちいただくと、コーティングがしっかりと形成されます。就寝前などのデバイスを使用しない時間帯に塗布されることをお勧めします。