もっとも役に立ったレビュー
darren wigglesworth
Manchester
Iphone7
2016年12月15日
Woodtasic
Great item very well made and does exactly what is says it does and looks great on my desk.
Mags
Essex
Olixar charging Apple Watch stand and charger with iPhone dock
2016年12月15日
Keep charged up
Excellent and very stylish does what it says on the box
Hazel Cook
Cambridge
iPhone 6s and apple watch
2016年6月3日
Compact and great looking!
This is a beautiful stand, everything fits perfectly. Looks amazing. Only downfall is I wish I could mount my phone properly so when I unplug it every morning I don't have to fiddle with pulling the cable and banging it against the stand etc I could just pull my phone out from the stand. So if the charging cable could be mounted to the stand somehow by different sized rubber holders (for different iPhones chargers) that would be perfect.
25 Reviews
|
レビューを書く
---
詳細情報

Combined Apple Watch 3 / 2 / 1 and iPhone charging dock
The Olixar Bamboo Stand is the perfect accessory for your Apple Watch Series 3 / 2 / 1 as well as your iPhone 5 or above, as it not only provides a convenient and secure docking location, but also you can use your existing charging cables and charge both of your devices so they are always ready for action.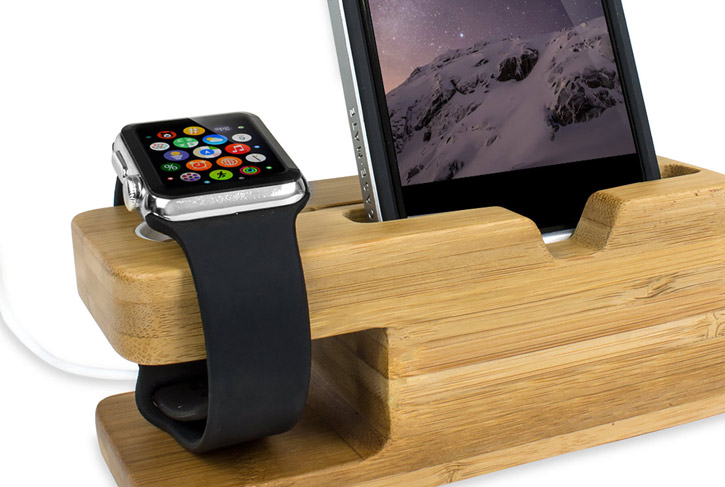 Beautifully crafted bamboo stand
This classic style dock is made from real bamboo, providing a beautifully unique design. Lightweight, yet sturdy, it is a perfect addition for your Apple Watch and iPhone.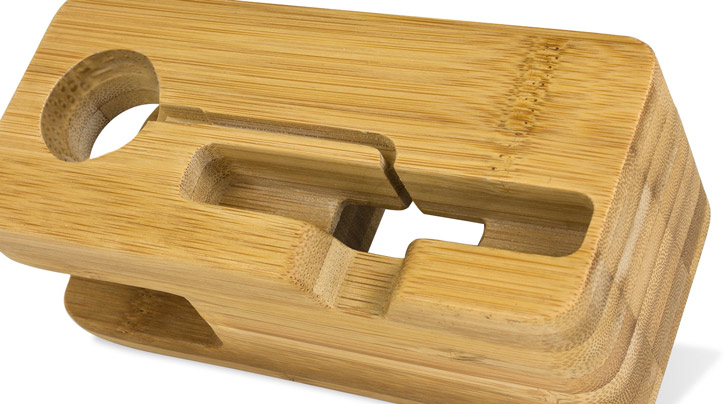 Dock and charge your Apple Watch
Rest your Apple Watch safely and securely with the Olixar Apple Watch Bamboo Stand. Place on the side of your bed, on your desk or in another location of your choosing so you can proudly and safely display your Apple Watch 3 / 2 / 1 while charging.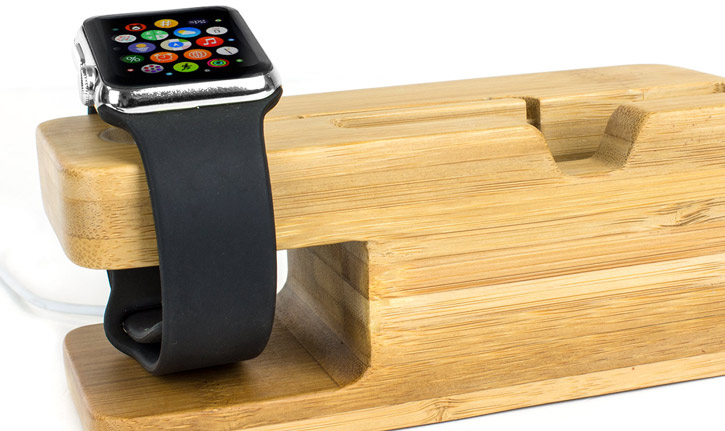 Display your Apple Watch 3 / 2 / 1
Displaying your fabulous new Apple Watch should be effortless. Well, now it is. Just lay it on the cradle and you're good to go. This beautifully crafted bamboo dock features a circular cut-out for an extra-firm hold while keeping the device within easy reach.
iPhone case compatible charging dock
Charge your iPhone with your existing Lightning charging cable all within the Olixar Bamboo Stand. This ensures your iPhone is safe from harm while charging and in an easy to reach position.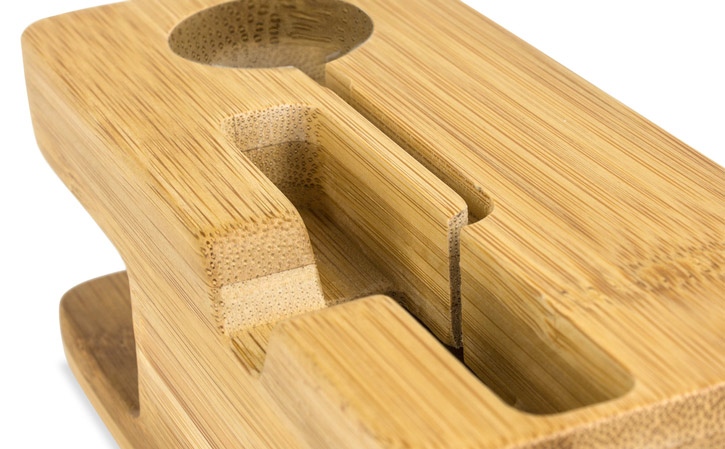 The Olixar Bamboo Stand can accommodate your iPhone with even a case on so you can dock and charge without the need to remove the cover.
View your iPhone notifications in comfort
With your iPhone docked within the Olixar Bamboo Stand, you can view your notifications at a comfortable angle. This is ideal if you have your Bamboo Stand on your desk to spot incoming emails or by your bedside if you use an alarm clock app for example.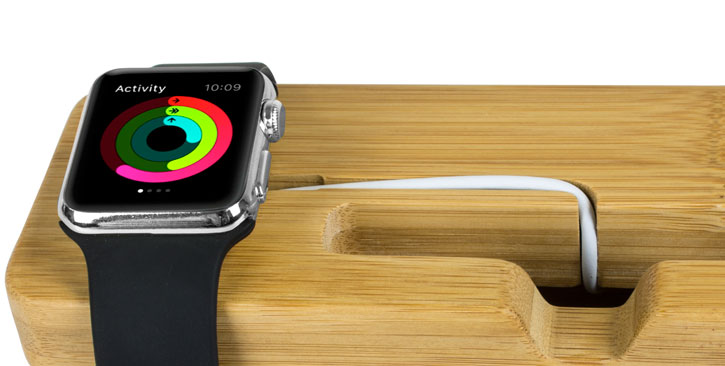 Cable cut-out for tidy cable management
With the conveniently placed cut-out, the Olixar Apple Watch dock allows you to feed your own Apple Watch charger through the gap so you can keep your charging cable neat and tidy. The Olixar Apple Watch dock also holds the magnetic charging head of the cable securely, for a safe and secure fit.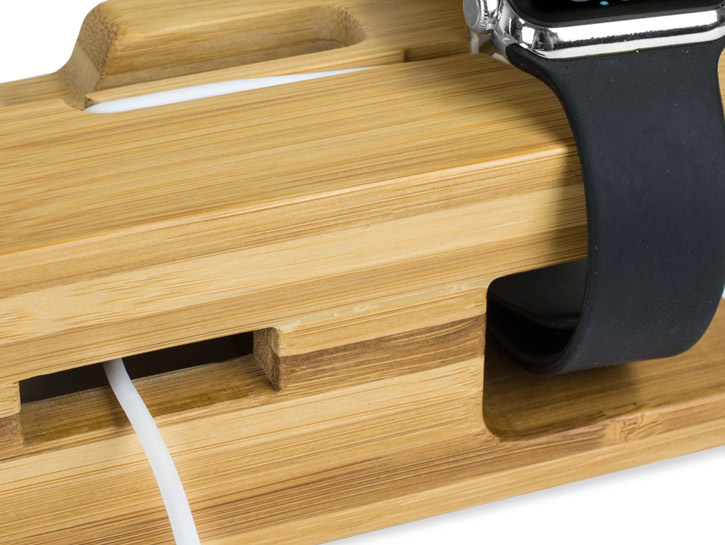 Of course, the Olixar Stand also holds your iPhone and as you would expect the dock also features a cable tidy perfectly suited for your Lightning cable also.
Designed specifically for the Apple Watch 3 / 2 / 1 and iPhone
This minimalist stand has been designed specifically with the Series 3 / 2 / 1 Apple Watch and the iPhone 5 and above model in mind, so you can be sure it is a perfect accessory for your Apple Watch and iPhone.