Unique Polka 360 Case iPhone 8 Case - Rose Gold
商品レファレンスID: 60787
The unique polka 360 case in rose gold and clear is designed to provide a stylish complement to your iPhone 8. Featuring robust polycarbonate construction, anti-scratch coating and a blended spray design encrusted with Swarovski crystals.
"Stunning and resiliant!"
"AMAZING"
"Great item , fantastic service"
もっとも役に立ったレビュー
Alicia Butler
Hemel Hempstead
Apple iPhone 7
2017年7月10日
Stunning and resiliant!
When I bought this initially I was worried that the diamantes/crystals would drop off - have had 9 months and its perfect. Bought another cover incase they sold out as love it so much! It's stunning. I've had many compliments.
2017年7月7日
AMAZING
I absolutely love this phone case, yes it is more expensive than I would usually pay but 100% worth it....would definitely recommend
2017年6月19日
Great item , fantastic service
Love my rose gold case with bling ! Ordered Friday afternoon, delivered Saturday morning. Can't beat service like that.
46 Reviews
|
レビューを書く
---
詳細情報
Protects your iPhone 8 from cosmetic damage and light knocks
The Unique Polka 360 Shell case protects your iPhone from scratches and scrapes, while letting the beautiful design of your iPhone 8 shine through. Comprised of a hard and durable polycarbonate shell, the Unique Polka case provides excellent protection with a hint of style and sophistication.
Clear design with encrusted Swarovski crystals
Incorporated into each case are striking Swarovski crystals that sit upon a clear back panel to showcase the iPhone's original design. This truly adds a stylish accent to this fashionable case. The metallic elements in the design sit well with the metallic finish of your iPhone 8 giving a classy overall aesthetic.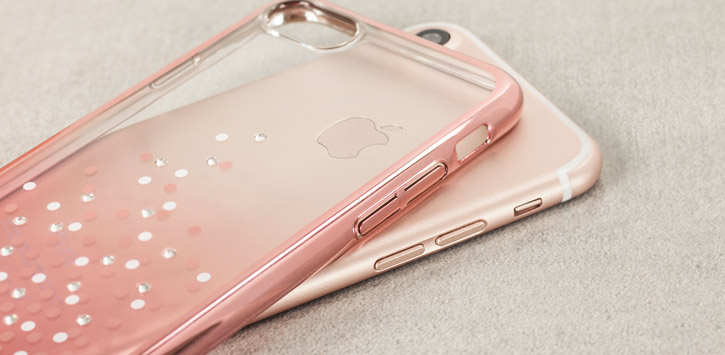 Slim fitting and lightweight
This lightweight polycarbonate case provides excellent protection without adding any unnecessary bulk to your iPhone. This means that you will have no problems placing the phone in your pocket or handbag. It also means the iPhone 8's natural form is preserved as well as protected.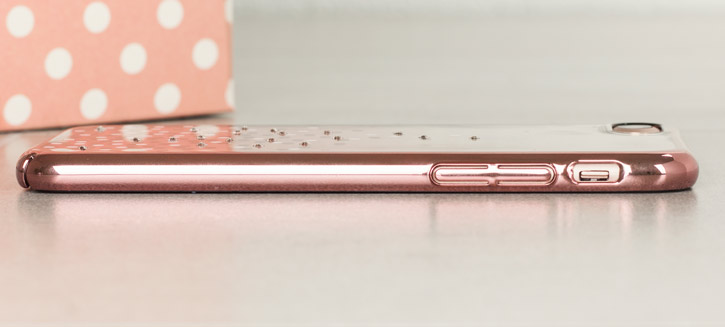 Wireless charging compatible
Enjoy the benefits of wirelessly charging your iPhone even with the case on using any Qi-compatible wireless charging pad. Protect your phone from any possible harm and still charge your phone using the modern spectacle of wireless charging.

Cut-outs for all the iPhone 8's features and ports so you'll never need to take the case off
Each Unique Polka 360 case has been designed specifically for the 7 and features cut-outs for the various ports and features such as the rear facing camera.