詳細情報
Hi-resolution Wireless Audio combined with AptX technology
Engineered with Super Wideband micro-dynamic drivers and certified by the Japan Audio Society, the Model 3 In-Ear Monitors from ADVANCED SOUND deliver a truly hi-resolution audio, over a wireless connection. Featuring Digital Signal Processing (DSP) and AptX Technology ensures the audio produced has optimum clarity and means you'll be able to listen your music the way it was intended to be heard.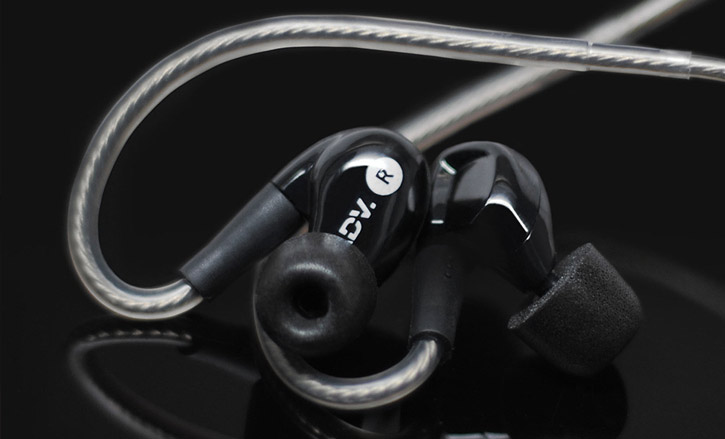 Unique convertible design from wired to wireless
The ADVANCED SOUND Model 3 In-Ear Monitors feature a world's first unique design as they can be converted from wireless to wired in a matter of seconds. When you've run out of battery with the wireless cable, simply detach it and attach the wired cable, ensuring you'll be able to continue to your music.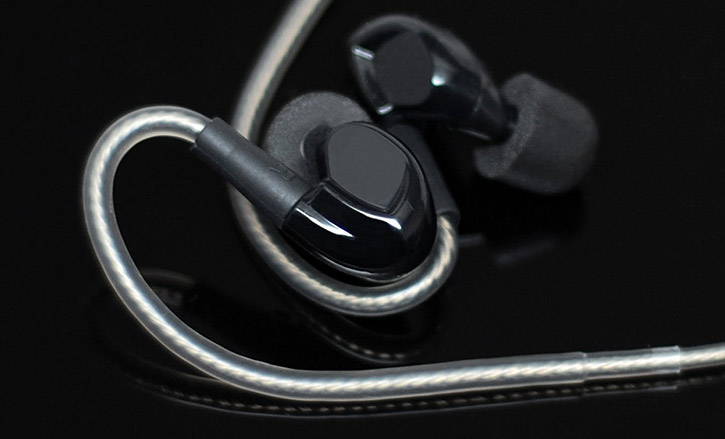 Up to 5 hours play / talk time
Packed with an impressively large battery life for such a compact pair of earphones, the ADVANCED SOUND Model 3 Monitors allow for up to 5 hours of playback, so you can keep enjoying the music you love for even longer.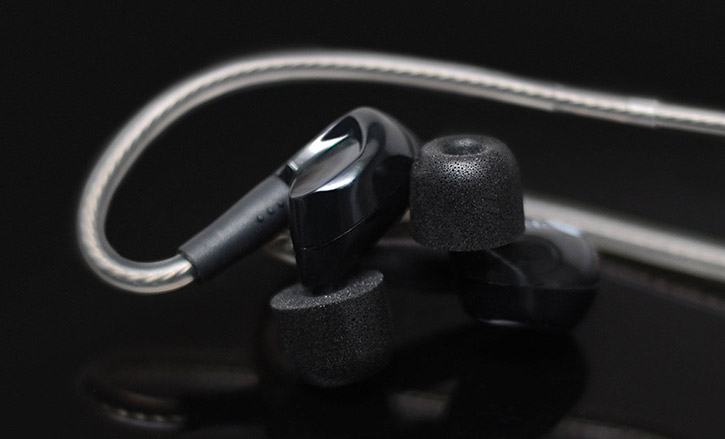 Built in remote / mic for hands-free calling
The built in remote / mic gives you full access to controlling the functions of your device via Bluetooth; this could be taking calls, skipping between your favourite tracks or adjusting the volume. Featuring CVC 6.0 noise reduction technology, the Model 3 In-Ear monitors reduces noise from the background, making them ideal for use on your daily commute.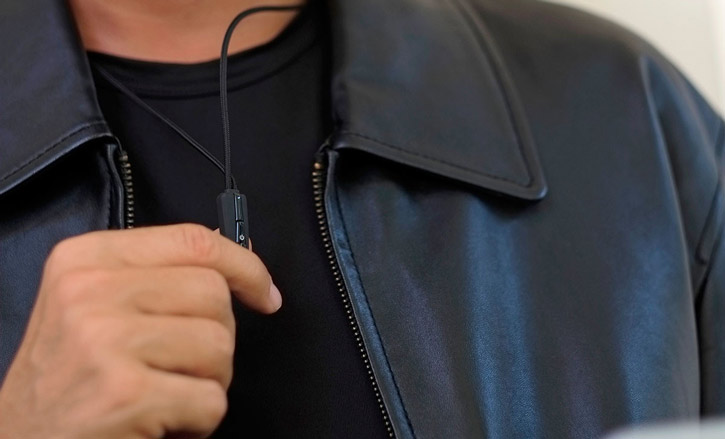 Magnetic Design
For functionality, these In-Ear monitors have been designed with a magnetic design between the charging port and battery, meaning they can be worn around your neck without having to worry about them falling out. In addition, the magnetic design contributes towards hiding the charging port.
Interchangeable tips for optimum comfort
The Model 3 In-Ear Monitors come with a set of two types of tips; green foam and black silicone. With the option to change the tips, you'll be able to ensure you have the most comfortable monitors possible. Three pairs of each tip are provided in different sizes, so you'll be guaranteed to get the perfect fit.
Included premium carry case
When you're on the move, protect your ADVANCED SOUND Model 3 earphones with the provided carry case, while also being able to store the charging cable and spare tips.
Technical specifications:
Driver Unit: Custom tuned single dynamic drivers
Impedance: 16 Ohm+/-15%
Frequency response: 20Hz - 40kHz
Wireless music / talk time: Up to 5 hours
Charging time: 1.5 hours
Bluetooth Version: 4.1 + aptX
Connection distance: 10m (33ft)
Charging port: Micro USB, DC 5V/60mA
Cable length: 1.2M
平均評価 4.0 ----- 16 お客さま | レビューを書く
Gilly
Brisbane
2017年12月6日
Great product and good value
Does exactly what I need for a great price. Currently used as a bluetooth receiver for my Shure SE535's and works a treat. Battery life is average.
Translated from English
0 out of 0 この記事は参考になった
---
mp035
Brisbane, QLD.
2017年8月21日
Difficult to get used to, but a great product.
When I first used the earphones, I did not like the wrap-around-the-ear style of the bluetooth cables. The standard 3.5mm cable does not have a wrap around. Although I did not like it at first, after getting used to the bluetooth wrap around cables, I find that they keep the earphone cables out of the way, and I can use these earphones in situations where it is impossible to use regular earbuds. The quality of the sound is great, battery life is great. I have no complaints.
Translated from English
0 out of 0 この記事は参考になった
---
Excellent sound quality for the money, Bluetooth not the greatest
Pros: - Excellent sound quality for the price. Neutral and balanced. - Wired and wireless option in the same package - Range of foam and silicone tips - Bluetooth receiver and IEMs use standard MMCX connectors Cons: - Bluetooth remote control buttons a bit finicky - Bluetooth range and connection stability not as good as some other brands
Translated from English
0 out of 0 この記事は参考になった
---
Anonymous
Unknown
2017年7月20日
Good quality, got lots complain on noisy mic. returned.
I was satisfied with the design, comforts, and sound quality. It was comfortable and easy to wear whenever and wherever I go. I love how the Bluetooth makes me look like wearing a necklace. Battery was more than enough. I love the sound quality. It was decent and okay. for this price of earphone: the combination of elegant design and decent quality were all worth. however, the microphone is too bad. I take and place calls everyday with my earphone. people kept complaining on how noisy I was even when I just slightly moved my body. my voice also sound far away if I am not holding the microphone near my lips. for this reason, I returned the product.
Translated from English
0 out of 0 この記事は参考になった
---
Hon Sze Lo
Edinburgh
2017年7月11日
ADVANCED SOUND Model 3 Hi-resolution Wireless In-ear Monitors
Avoid like the plague
*Update 11/07/2017* The left earbud ceased to work after about 10 hours of use. I have tested both cables, both yielded the same result that is no sound or very weak sound. Avoid like the plague!
Translated from English
0 out of 0 この記事は参考になった
---
Hon Sze Lo
Edinburgh
2017年7月7日
ADVANCED SOUND Model 3 Hi-resolution Wireless In-ear Monitors - Clear
Great earbuds, medicore with bluetooth, indoor use only
The sound with the wire is absolutely amazing, I have never owned a better pair of earbuds. However, the sound is mediocre with bluetooth. And the bluetooth harness is quite fiddly too, in my view. And MMCX cables are quite fragile, according to some reviews, so handle with the utmost care! I think the greatest the thing bluetooth offers is mobility, however these earbuds are not even water resistant, so that basically means they can't be used outdoor in the UK. I wanted them to be good so much, but I think my expectation was indeed too high. I think it is a fair product for its price (80 pounds)
Translated from English
1 out of 1 この記事は参考になった
---
Anonymous
Krakow
2017年7月4日
IPhone 7
Less then expected but ok for its price
Before buy I've read a couple of reviews on the internet and reviewers was constantly repeating how amazing these headphones are. Unfortunately, I'm not so excited about them. Pros: Nice and clear sound overall. I would say mostly for rock type of music. Cons: Biggest for me is that Bluetooth headphones for an active style of life don't serve this role well. They are bad for running because AVD Sound M3 doesn't sit tight in your ear. And they are VERY bad for me like gym headphones because their sound has A LOT of highs (which doesn't allow you to make sound louder because it starts to squeak) and not enough bass.
Translated from English
0 out of 0 この記事は参考になった
---
AJP
London
2017年7月3日
Advanced Sound Model 3 Hi-Resolution In-ear Monitors - Clear
Good but not great
I've been happy enough with the sound quality given the price. The reception cuts out often but I can even live with this. The major flaw is that, due to the design of where the battery hangs, the discomfort of it catching on my clothes, and subsequently the pulling of the cable, has meant the connection has been interrupted with the right hand side output. They are on their way back for a replacement
Translated from English
0 out of 0 この記事は参考になった
---
Bobbi
Crawfordsville
2017年7月1日
IPhone 6 plus
Awesome product
The quality of my headphones are exceptional! Love, love, love them. Everything sounds so clear and crisp and I can hear every sound so defined. They are very easy to use and comfortable. Everyone should have a set. I highly recommend this product for the quality and the price was right!
Translated from English
0 out of 0 この記事は参考になった
---
Colin
Boise
2017年1月27日
Advanced Sound Model 3 Earphones
Excellent.
Really excellent.
Translated from English
1 out of 2 この記事は参考になった
---
Chris
New York City
2017年1月25日
ADVANCED Model 3 Bluetooth Headphones
Amazing build and quality
I love these earbuds. The sound quality is great and having the ability to switch to wired earbuds when the battery dies is clutch. They are beyond comfortable and I haven't had a single issue with them yet.
Translated from English
3 out of 4 この記事は参考になった
---
nicko
Swindon
2017年1月23日
ADVANCED SOUND Model 3 earphones
Great sound, some things to bear in mind
Sound quality is FAB, no kidding! This is my first foray into Bluetooth earphones and I thought I'd be sacrificing audio quality for wireless convenience, but I'm hearing things on tracks my other earphones don't reproduce. The main thing I've noticed compared to my other earphones is the bass is richer and clearer. My primary usage is for a mainly deskbound office environment, and for this they're fine. On the negative side, when walking around there is noticeable cable rub feeding through to the earphones (I can even hear my footsteps amplified) and there is some very minor Bluetooth cut-out. Also, the magnets joining the cable around your neck are not that strong. Hence, I don't think I'll be using them for active sports, e.g. jogging. This is also my first time with in ear monitors, and I find how the eartips fit is absolutely critical to the sound quality. A tiny gap in the ear canal (such as when opening my mouth wide) can move the sound from rich and bassy to thin and tinny. I've noticed the price has nearly doubled since purchase, and with the negatives I've mentioned I think I'd have second thoughts if I were to buy again. But if you want wireless plus sound quality then these must be amongst the very best sub £200 earphones - maybe that's why the price has shot up?
Translated from English
3 out of 3 この記事は参考になった
---
Pavel
Coventry
2017年1月22日
iPhone 7 Plus
Overall better than most, but a few major cons are holding them back.
I don't like heavy/overpowering bass, but still these headphones are appealing when it comes to bass. Basically, they sound like Sennheiser M2 IEG if you lost almost all the bass, which is regrettable. The wireless connection isn't the best, but better than most. For example, putting my hand over the receiver is enough to lose connection when my phone is like 40cm away. However, as long as nothing thick is covering the receiver - it works fine. Battery life is ok too, but the ear buds are horrendous. The foam ones aren't very comfortable to me, but the rubber ones are even worse. They are the worst rubber buds I've had in years. The worst part is that the canal on which the rubber/foam buds sit is very narrow, so most aftermarket buds fall off way too easily. The canal is made out of very thin plastic too, so I expect it to become brittle and fall apart within an year or so.
Translated from English
1 out of 2 この記事は参考になった
---
Antony
Kent
2017年1月15日
iPhone
Best Sound Quality
First and foremost, these have the best sound quality of any headphones I've bought. For £80 these are good value for wired ear buds, the fact these are both wired and bluetooth just makes them better. They aren't perfect but they sound better than their rivals priced twice as much. The separation is great, you can hear everything perfectly. The fit is comfy and they stay in place well. You will not regret buying these, I certainly don't. A very solid 4.6 out of 5.
Translated from English
1 out of 2 この記事は参考になった