詳細情報

View the time, battery life, incoming calls and messages without opening your case
Aptly named, the official 'Clear View' case for the Samsung Galaxy Note 8 features a semi-transparent front cover that allows you to quickly and easily view incoming calls, messages, battery life as well as the time. This is a fantastic way to keep up to date with your notifications without having to constantly open and close your flip case.
Fully touch compatible, the Clear View Cover allows you to not only view your notifications, but also to manage them through your new fantastic case.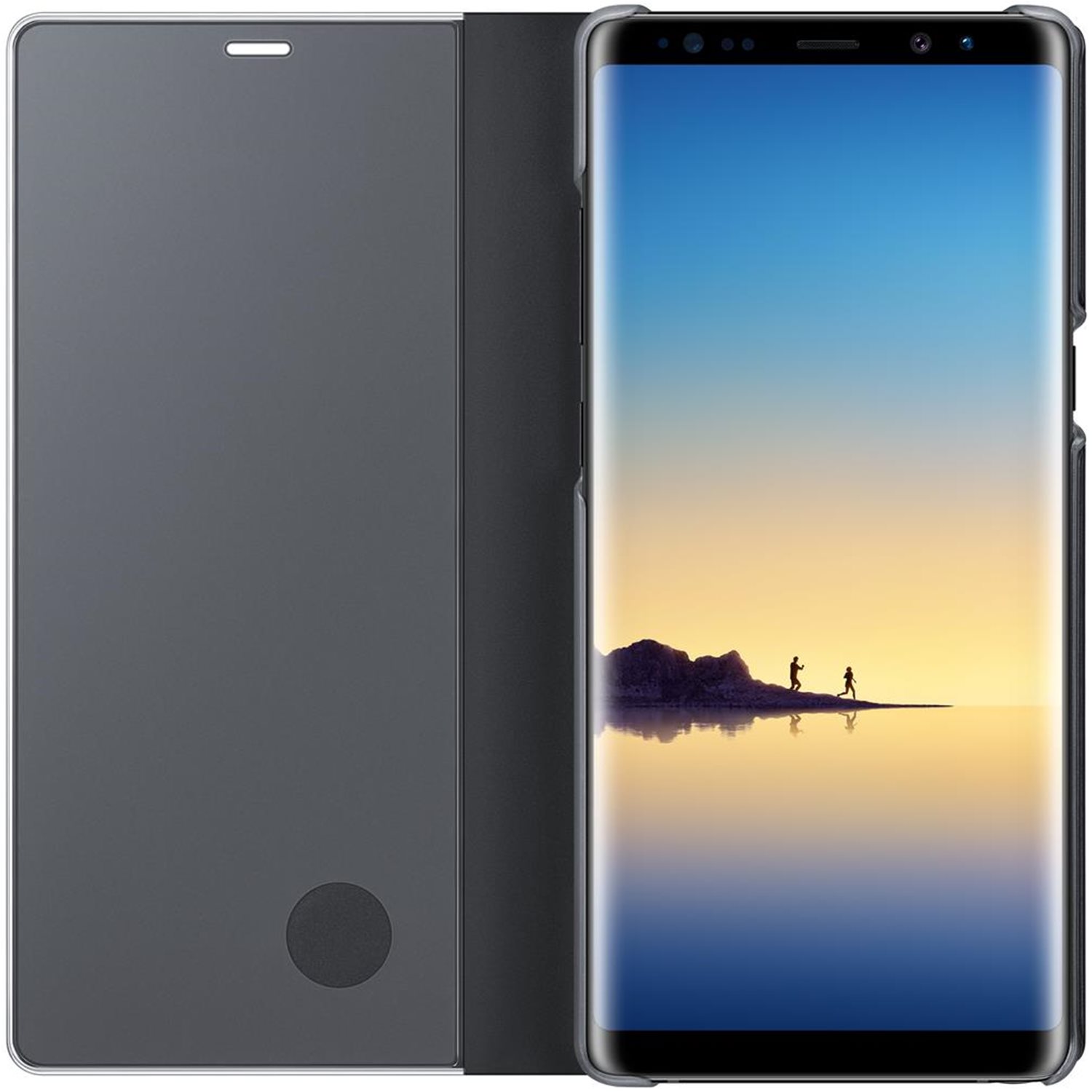 Provides full screen protection without additional bulk
Protect the front of your Samsung Galaxy Note 8 from scratches, scrapes and front-on impacts with the official Clear View cover.
This case attaches onto the original back cover of your Note 8, clipping on to the back of your device without adding hardly any bulk and then folds over the front when not in use. This means that the most important parts of the phone, the screen, back and sides are protected from harm without the added thickness and weight normally associated with flip cases.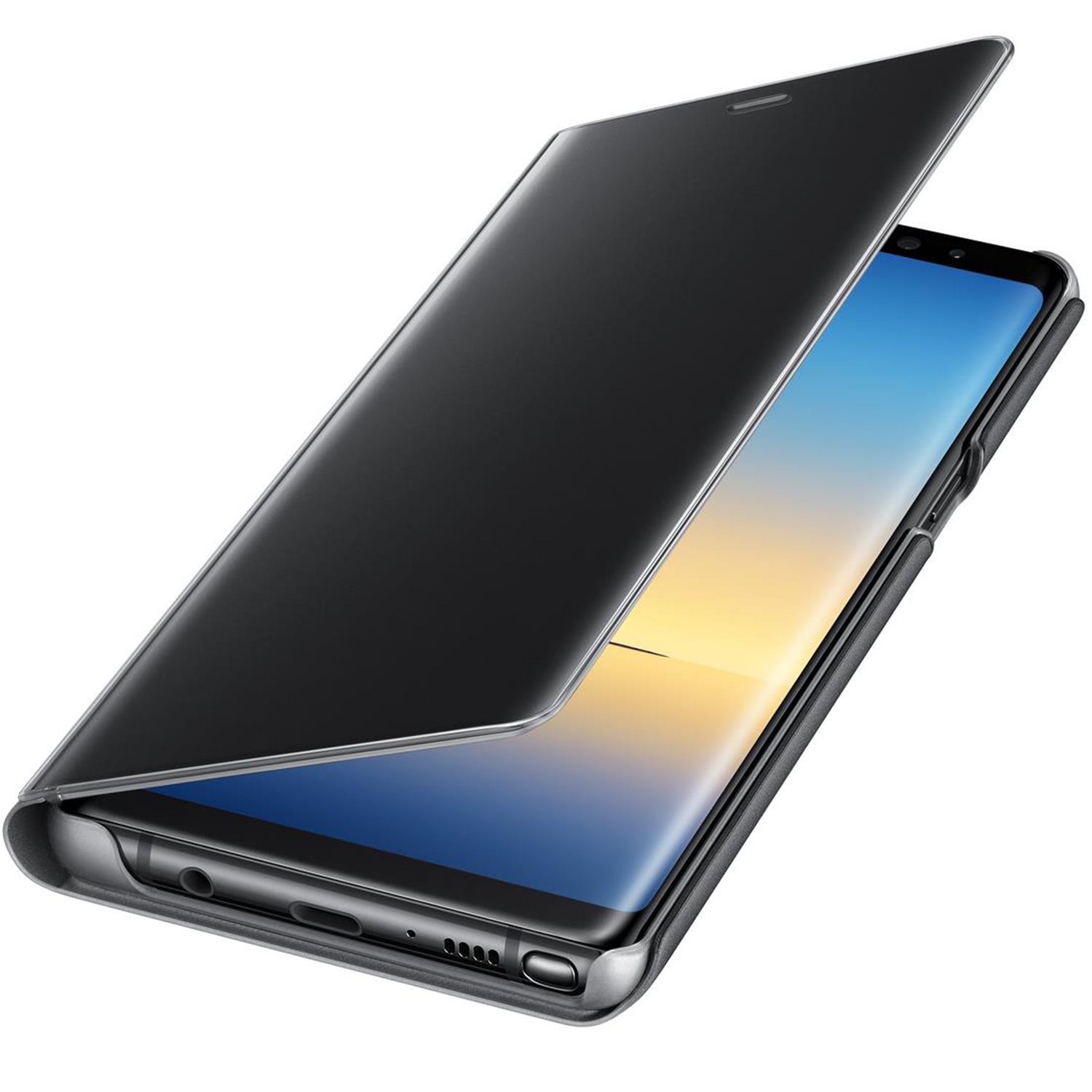 Doubles as a mirror when not in use
Another fantastic feature of this official case is that it can also double up as a handy mirror for when your out and need to check your appearance quickly. When a notification comes in, the case switches back and allows you to view your phone through the cover, ready to answer or reject your incoming call for example.
Built-in viewing stand function
The front cover of the Galaxy Note 8 Clear View Stand Cover is designed to allow the case to fold onto itself horizontally. This creates the perfect viewing stand for watching movies, listening to music or even web browsing.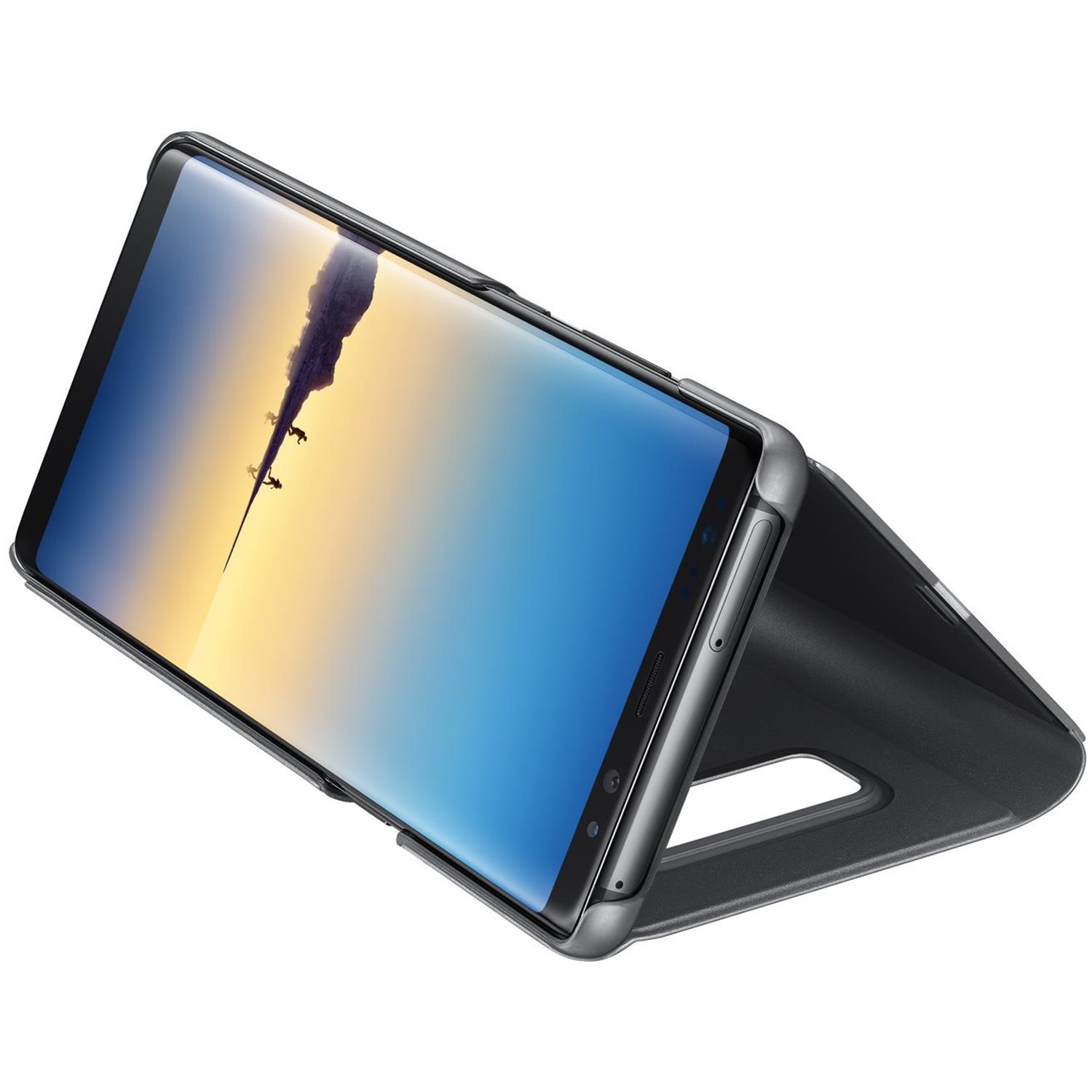 Official Samsung accessory made for the Galaxy Note 8
This is an official Samsung product, so is made to the highest standards with the best quality materials. It is designed specifically for use with the Samsung Galaxy Note 8, so offers a perfect fit and does not impede the use of any of the functions such as the power and volume buttons, headphone and charging ports, or front and rear cameras.
Easily access all ports, controls & connectors
The case also features cut-outs for the ports and features of the Samsung Galaxy Note 8, including the charging connector, S Pen and camera.
Qi wireless charging compatible

This case fully supports Qi wireless charging, allowing your Qi-enabled smartphone to work with the many docks and accessories available that support this feature. So, even with the case on - your phone can charge wirelessly with the appropriate Qi compatible accessory.
Please note: We advise that users of this case ensure that the screen is kept clear of any dust and other small particle debris.
平均評価 4.6 ----- 10 お客さま | レビューを書く
Jennasue
palmerston north
2018年2月3日
This is a wonderful case that compliments my Note 8! Very glad I bought it.
I previously had an after market magnetic flip case for my Note 8 and it disrupted the workings related to the S-pen. This Samsung case is really lovely to hold and since it is the Samsung brand, I have no problems with the S-pen now. It looks great and it is very handy that you can answer calls without opening the cover. I highly recommend this case if you want a good quality case for your lovely Note 8 phone!
Translated from English
0 out of 0 この記事は参考になった
---
Vladimir
Kuznetsk
2018年1月24日
Official Samsung Galaxy Note 8 Clear View Standing Cover Case - Black
Great product. Fully corresponds to the description. The book is not the first time. Delivered within the stipulated time. The store is great. I recommend to everyone.
Translated from English
0 out of 0 この記事は参考になった
---
Raymond
Hong Kong
2018年1月7日
Late delivery but Samsung case is good
It took about 20 days to deliver to case from UK to Hong Kong. Very upset. But case is very good. No doubt about it
Translated from English
0 out of 0 この記事は参考になった
---
Knut
Aalesund, Norway
2017年12月15日
Official Samsung Galaxy Note 8 Clear View Cover Deksel - Gull
Delivery time abt. one week, item as ordered, package suitably wrapped.
Translated from English
0 out of 0 この記事は参考になった
---
I have fitted the phone and it is a worderful case
The case for my Note8 phone arrived at 10.20 this morning. I have fitted the phone and it is a worderful case.Use it is good protection in my pocket and it fits in my belt pouch. Thanks for the service. Malcolm
Translated from English
0 out of 0 この記事は参考になった
---
Gina
Queensland
2017年10月24日
Great case
The case is great as you can see through the front cover which is useful and it folds back when you want the phone to be free-standing
Translated from English
0 out of 0 この記事は参考になった
---
Mathilda Bach-Frommer
Copenhagen
2017年10月18日
Excellent
Excellent - as described- very well-packed and fast delivery to Denmark. Thank you.
Translated from English
0 out of 0 この記事は参考になった
---
Ronan
Dublin
2017年10月12日
Note 8
Good cover - though pricey!
It wasn't the first cover I purchased for the phone - expensive, premium feel, though may not be great for protection if tested. Clock visibility is a nice touch, as is the usual call answering swipe.
Translated from English
1 out of 1 この記事は参考になった
---
Miroslaw
Roscommon
2017年10月7日
Samsung Note 8 cover
Perfect
Good quality. Fast Delivery. Strongly recommend
Translated from English
0 out of 0 この記事は参考になった